Erik Lunde: vocals, acoustic guitar, harp
Hans-Peter Johnsen: electric and acoustic guitars
Jon Erling Solheim: bass
Thorgrim Stensland: drums
"Groovy rock with lots of energy and Norwegian lyrics" may be a suitable description of Semi Norvège. The Band's music has evident references to the late '60s / early '70s, and varies elegantly between hard and soft - electric and acoustic. Somtimes the music is performed precise and right on target, while at other times it's stretched out into long, improvised passages which allows plenty of room for the musicians to unfold and express themselves. The majority of the band's music is safely based in the rougher part of the guitar based rock'n'roll landscape, but if you start searching, you'll find traces of almost everything from the History of Rock - and beyond; In the music of Semi Norvège there are elements as diverse as heavy metal and folksongs, and you'll find everything from re-arranged excerpts of works by classical composers to blues and acid rock.
(from Dagbladet Tromso 03.03.2000)
---
THE STORY SO FAR
IN THE BEGINNING THERE WAS ELVIS ...

Semi Norvège is a Rock-band based in Tromso, Norway.

The Band was founded in 1996 as "Storre Enn Elvis" - "Bigger Than Elvis", but today only Erik Lunde and Hans-Peter Johnsen remain of the original line-up (and the band has of course also changed it's name to Semi Norvège). Jon Erling Solheim joined in april 1997, and along with drummer Stein Erik Eilertsen they played their first concert in june '97.

Keyboard player Henning Oelmann was added to the line-up the following autumn, and in may 1998 Trond Emil Hansen became the band's new drummer. Shortly thereafter Kebba Sosseh was added on african percussion, but was quickly replaced by ex-Mari Boine percussionist Pamawdo Saho.

At this point in time the band's music had changed from what had initially been rather straight acoustic based rock/pop to considerably more electric based rock with influences from a variety of sources, incorporated everything from extended psychedelic jamming to hints of classical music and african rhythms.

Tromso right now:
Webcams
A
D
EMO
| | |
| --- | --- |
| | With the six man line-up of Lunde, Johnsen, Solheim, Oelmann, Hansen and Saho the band went into the NRK (Norwegian Broadcasting Corp.) studio in Tromso in october 1998 to record a Demo-CD. The six tracks featured on the disc were recorded during two evenings, and everything but the vocals were done live. Although the CD - simply titeled "Semi Norvège: Demo" - never was intended to be a regular release, over a period of a month or so more than 250 CDs were distributed due to very positive reception and unexpected public demand. |
In march 1999 both Hansen and Saho left the band, and with the temporary help of former drummer Stein Erik Eilertsen, Semi Norvège in april/may embarked on a semi-acoustic mini-tour. The tour included concerts at schools and performances with the Tromso Dance Theatre at the Tromso Art Museum, and culliminated with no less than three shows at two different locations on may 8th, 1999.
ANOTHER DEMO AND A COMPILATION DISC

At the end of may 1999 Rune Nylund became the new drummer of the band, and just three weeks later the band found themselves once again in the studio. This time four tracks were recorded, and released on their second demo - "CE" in august '99.
Semi Norvege
In the summer of '99 the band was also approached by the newly founded label Yellow Snow Records, and asked to contribute tracks to a forthcoming compilation-album. The band agreed to do so, and the album - "Yellow Snow Compilation Vol.1" - was released on september 27, 1999.

SEMI NORVÈGE SUMMER 1999: f.l.: Henning Oelmann, Rune Nylund, Erik Lunde, Hans-Peter Johnsen, Jon Erling Solheim
(Photo: Evelyn Johnsen)
Written about Semi Norvège's contributions on "Yellow Snow Compilation Vol.1":
"The Strength of Semi Norvège are their melodies, their arrangements and the instrumental work of the band-members. Musically the band draws influences from a variety of styles which are blended together to an expression with traces of blues and rock as well as heavy and classical music."
from Dagbladet Tromso's review of "Yellow Snow Compilation Vol.1" 29.09.99

---

"And at the end Semi Norvège lifts the whole album quite a bit [with their two tracks] ...".
from Flimmer's review of "Yellow Snow Compilation Vol.1" okt.1999

---

"... Semi Norvège [is a] band which may be best described as performers of "North Sea Rock" ... In other words North Norwgian rock with lots of tradition and many typical elemets ..."
from Backstage's review of "Yellow Snow Compilation Vol.1" nov.1999

---

"... The music of Semi Norvège has lots of rhythm and a charming groove, flavored with harmonica, mandolin and djembe. There's no holding back, neither musically nor lyrical. Never been jealous ? Listen to the song "Primary needs"."
from Nordlys' review of "Yellow Snow Compilation Vol.1" 30.11.99

--

FINALLY A REAL ALBUM
In the spring of 2000 Semi Norvège finally started the recording of what was going to be their first "real" record - "Tout". The Album was co-produced and engeneered by Arne Lund (drummer of one of Norway's true living legends - the band Karlsoy Prestegaard - and ex-drummer of another legendary Norwegian band; The Cut). "Tout" was released on May 31st, and the event was celebrated with a release-concert that included an extensive line-up of guest musicians. The Album itself recieved very good reviews.

Written about "Tout":
" ... This is absolutely competitive music at the crossroad of rock, pop and blues. Semi Norvège are at their best on the tracks where they push the pedal to the metal with rock rooted in the 60's and 70's ... They handle the pompous arrangements of tracks like "Papa Legba" and "Molok" with splendour, and they also succeed when they let themselvs slide into pure blues on tracks like "There are flowers in front of me" ... The coclusion is: Semi Norvège delivers a solid debut-album ..."
from Dagbladet Tromsos review of "Tout" 31.05.00

---

"During the band's existence, Semi Norvège has developed into one of Tromso's finest bands ... They're simply refreshingly original in their somewhat old-fashioned style, and they don't seem to care a bit about what other bands are up to ... The Band's got a highly impressive catalogue of self-penned material ... Musically the Gentlemen of Semi Norvège are probably something of the most resourcefull to frequent the rock-stages of the city ... Semi Norvège are also showing abilities of making catchy tunes. "Glass and Steel", "I dreamt I was flying" and "Primary needs" are tracks that sit comfortabely almost immediately. All in all a record to appreciate .... Semi Norvège delivers an absolutely decent CD."
from Nordlys' review of "Tout" 06.06.00

"Let it be said right away: Semi Norvège delivers a mature record that confirms beyond the shadow of a doubt their supreme position as interpetors and performers of rock, blues and pop for an adult audience ... The Album is nothing less than a worthy document that sums up the musical life of an array of the city's musical profiles and a skillfull band ... There are few bands that have more experience or showmanship than the old road-warriors of Semi Norvège ... Semi Norvège are often at their best when they allow themelves to slide into long instrumental passages, solos or extensive jamming ... Even though I'm not particulary fond of blues, I find the band to be at their best on the tunes that are coloured by the blues. The inspiration drawn from the rough rock of the 60's and 70's is also very evident ... The band deserves admiration for not having been afraid to experiment with both musical styles and guest musicians, which has made "Tout" into a varied and exciting album."
from Troms Kulturnetts review of "Tout" 07.06.00

---

"They may not have invented gun-powder, but there's a real powder-mix in store for those who purchase Semi Norvège's brand new CD Tout ."
excerpt from Nordlys 30.05.00

"Semi Norvège is a solid and well-playing band that [...] incorporates a lot of different styles in their naked form of rock. "Tout" is Semi Norvège's first "real" record, and the opening track "Molok" is a good example of what the band's music is all about. During eight minutes of sleazy rock we get sliding instrumental passages fronted by a somewhat dated, but still very effective guitar-sound. The band is definitively not concerned with what's musically trendy, and the track "Glass and steel" could for instance might as well have been produced in 1993 or 1982. Or whenever for that matter ! The same goes for every single one of the album's nine tracks. The Sound is almost sensationally "unmodern" ... But "Tout" is by all means not a bad album on account of that. The songs make it all the way, and when the band slides into a more bluesy mood as in "There are flowers in front of me" Semi Norvège becomes really cosy to listen to ... At times the lyrics are extremely good, and quite a bit away from the "Come-on-let's be-happy"-style of other norwegian bands like DeLillios (or Di Derre for that matter) .... Semi Norvège is a band for the adult audience, and I'm sure their music works perfectly when performed live on a stage. Even though it may not be the young and trendy music-lover's cup of tea, it's right on target for those who don't mind old-fashiond and slightly rough guitar-rock. Personally I would however have appreciated it if they had dared to be just a tiny bit more modern in their untraditional old-fashionness. Their distinctive character is there in any case.
from Panoramas review of "Tout" 27.09.00

SEMI NORVÈGE LIVE AT MACK-KJELLEREN, TROMSo 29.09.1999: f.l.: Hans-Peter Johnsen, Rune Nylund and Erik Lunde.
Following the release of "Tout" Semi Norvège played at three of the four largest rock-festivals in Northern Norway during the summer of 2000: Korgen Rock & Reunion Festival III in Korgen, PÂ Karlsoy i Troms-dagene on the Island of Karlsoy, and at Signaldalsdagan 2000: KrÊsj 2000 in Signaldalen.
In november 2000 there was once again time for changes in the band's line-up, and true to the traditions of Semi Norvège, the changes once again concerned the position as drummer. Rune Nylund left the band, and after some auditioning his replacement was found in a young gentleman by the name of Thorgrim Stensland.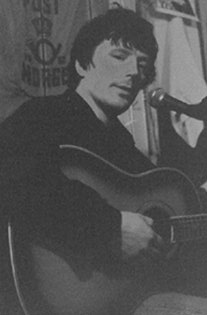 SEMI NORVÈGE DURING REHEARSALS FEBRUARY/MARCH 2001:
Left: Erik Lunde (Photo: Thorgrim Stensland) / Right: Hans-Peter Johnsen (Photo: Thorgrim Stensland)
Under: f.l.: Erik Lunde, Jon Erling Solheim and Hans-Peter Johnsen (Photo: Thorgrim Stensland)

A NEW MILLENIUM - A NEW RECORD

| | |
| --- | --- |
| In june 2001 the new Semi Norvège line-up made their record-debut with the CD Single "Istid / Hud mot hud" ("Ice age / Skin to skin"). The two songs featured on the Single were recorded and mixed over a period of three months in the spring of 2001, and showed a considerably more mainstream-oriented side of Sermi Norvège than their previous releases. Once again Arne Lund had been co-producer and engeneer, and once again the band had made use of some outside help, this time most notably from the lead singer of the critically acclaimed Tromso-based band Sister Sinister - Solveig Jakobsen. | |

In addition to being available through traditional channels, Semi Norvège also decided to make the single available fror free download from their internet-site. Those who chose this method of aquiring the record were also given the option of downloading an otherwise unreleased alternate version of one of the tracks.

SEMI NORVÈGE IN STUDIO MARCH 2001:
f.l.: Jon Erling Solheim, Arne Lund (co-producer), Erik Lunde og Hans-Peter Johnsen
(Photo: Thorgrim Stensland)
Also written about Semi Norvège:
" Semi Norvège are skillfull musicians who aren't strangers to performing on a stage. The Band combines a unique form of rock and blues, spiced with Norwegian lyrics. With experience and obvious enjoyment they captivate their audience ... The most impressive thing about Semi Norvège is probably the individual skills within the band. There were moments when the various bandmembers were nothing short of brilliant."
from Troms Kulturnetts Concert review 27.09.99
---
"Semi Norvège ... has gained a reputation as an astonishing live-band."
from Troms Kulturnetts review of "Yellow Snow Compilation Vol.1" sept.1999
---
"During last friday's concert it was confirmed beyond the shadow of a doubt that Tromso rocks. Alive on stage [they] are at their best. ... They demonstrated that performing live is something they know how to do ... What need does Tromso have for tired old stars from Oslo, when this gang rocks better than most of them ? It was full energy and enjoyment from the beginning to the end ... [It was a] glorious performance from the veterans of Semi Norvège ... The message is clear: Get yourself on a concert with [this band] !
from Nordlys' Concert review 27.09.99
THE STORY CONTINUES
In the Summer of 2001 Henning Oelmann was granted a one year leave from Semi Norvège. Now temprarily without keyboards, the band naturally started to move in a more guitar-dominated direction, and the more rock-oriented material was drawn into the foreground. The "new" four-piece version of Semi Norvège made their concert debut in September 2001.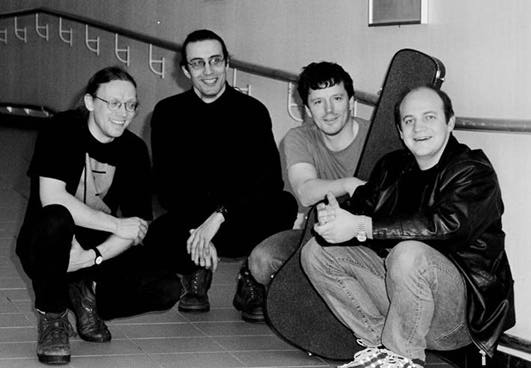 SEMI NORV…GE NOV.2001: f.l.: Jon Erling Solheim, Hans-Peter Johnsen, Erik Lunde and Thorgrim Stensland
(Photo: Anne Kristin Solheim)
| | |
| --- | --- |
| | As part of the preparations for the recording of the band's second album, Semi Norvège made live-recordings of four tracks in october / november 2001. Two of these were released on a Strictly Limited Edition Demo CD titeled "Live Demo 2001", and one of the tracks - "Stesolid Shuffle" - was also made available for download from the band's internet site. |
In january 2002 the band began the recording of their second CD. Once again Arne Lund was chosen as engeneer and co-producer, but unlike before, this time the band decided to go for a rougher sound. The recordings were done live, and overdubs were limited to an absolute minimum. Over a period of four months, five tracks were recorded.
As a consequence of factors beyond the band's control - including the fact that the studio was torn down to make room for the construction of Tromsos new City Hall - further rucordings had to be postsponed in may 2002. With no studio activity, the band instead turned to live activity, and among other apperances also made a very well recieved retun to the Karlsøy festival, where they had originally played two years before.
... AND CONTINUES

During the fall of 2002 it became clear that keyboard player Henning Oelmann wouldn't return to the band, and Semi Norvège's four piece line-up went from being temporary to becoming permanent.


"Semi Norvège are skilful at what they do ... The lyrics are norwegian and imprissingly complex. They give plenty of room for the vocals to have the space it reqires. To make up for this, the band includes long instrumental passages that are very well carried out ..."
from Tromsos concert reviewe 23.09.02
---
More information about Semi Norvège:
The Norwegian version of the Semi Norvège Homepage

Lyrics (Norwegian text)

Latest news (Norwegian text)

Newspaper archive (List, scans and links)

Reviews: "Tout" (Norwegian text)

Reviews: "Istid / Hud mot hud" (Norwegian text)

Setlists from some previous concerts (List)

The Semi Norvège Family-tree of Past and Present members
Ordering records by Semi Norvège

Dagbladet's Semi Norvège-page
Please visit Henning Oelmanns personal homepage,
read about some of Erik Lunde's Experiences in the great outdoors (Norwegian text),
check out what's happening in Semi Norvege's hometown right now (webcams),
get shocked by the Possible consecvences of Eating the fruits of the Rock'n'Roll tree,
and if you like Hendrix, this might be of interest to you ...

© Semi Norvège 2003